Born out of a clear vision, created for electric mobility - that's what BMW is all about when it comes to electric vehicles. Thanks to BMW eDrive technology and fully electric all-wheel drive, the electric BMW iX offers exceptional range with spectacular acceleration.
Read on to find out all about the 100% electric BMW iX.
---


Three Powerful Motors
With the BMW iX xDrive40 trim level, you get two electric induction motors developing 322 hp and a powerful 465 lb-ft of torque.
The enhanced xDrive50 trim offers two electric motors, this time developing 516 hp and 564 lb-ft of torque.
In this respect, with two powerful electric motors and BMW xDrive electric all-wheel drive, the BMW iX offers exceptional electric performance: over 500 hp propel the BMW iX from 0-100 km/h in less than 5 seconds. Instantly available torque and continuous acceleration enable the BMW iX to respond precisely and spontaneously to every movement of the accelerator pedal; you'll be in the driver's seat of a thrilling vehicle.
Finally, the more spirited M60 trim level features two electric motors that will nail you to your seat with 610 hp (in Sport mode) and a staggering 811 lb-ft of torque. With this powertrain, you'll go from 0-100 km in just 3.8 seconds.


Interesting Range
The xDrive40 trim level boasts a range of 322 km, while the BMW iX xDrive50 electric SUV has a range of 500 km. Finally, with the M60, you'll cover 476 km before stopping at a fast-charging station.
The 2024 BMW iX is ideal for both city and long-distance driving. This BMW electric car will come in handy every day of the week. Thanks to its highly efficient design, it has excellent aerodynamic properties. You'll be driving a versatile, efficient and powerful model with a long range.


A Sophisticated Design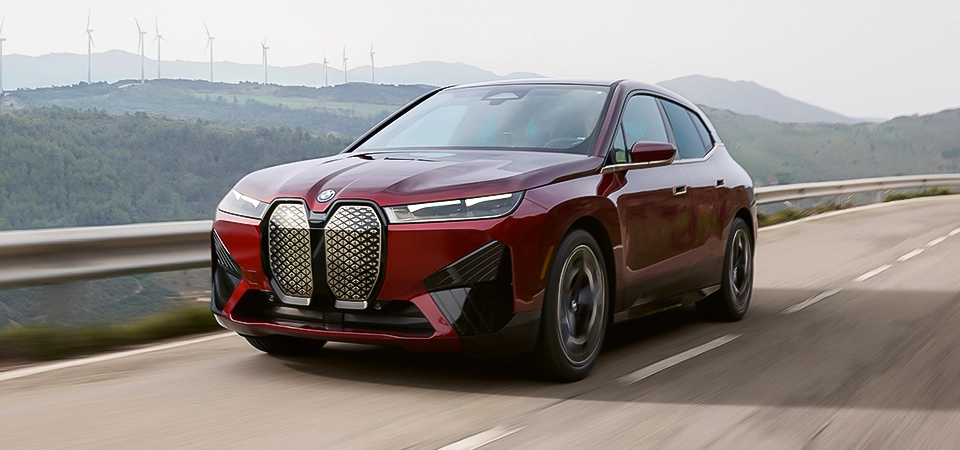 Generous surfaces and soft lines give the BMW electric SUV its unique shape. Every detail is perfectly integrated into the modern German design language, giving the vehicle the appearance of having been created from a unique mold for you.
The highly aerodynamic configuration of the BMW iX is effective, as are its specific features such as the design of the windows tapering towards the rear at the sides of the vehicle. For the first time, flush door handles and frameless doors are featured on this BMW, reflecting its very Cartesian yet futuristic spirit.
The German automaker's iNEXT Shy Tech™ concept puts passengers at the center of attention, pushing the BMW iX's modern technology into the background until it's used. This invisible intelligence can be seen on the outside in numerous details.
For example, in the nostrils, which provide intelligence space and camera technology, radar functions, state-of-the-art sensor technology and heating elements.
As Vincent Aubé says:
"The BMW iX is polarizing, there's no doubt about it."





Minimalist Interior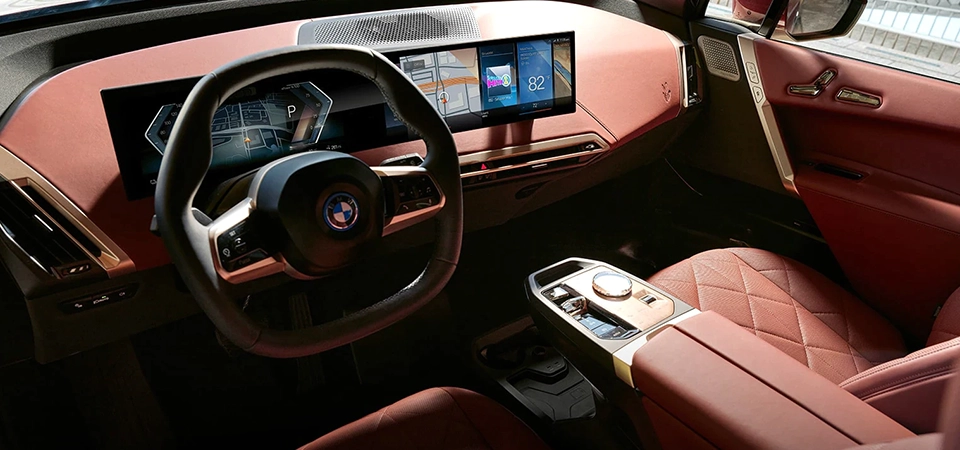 The BMW iX interior is a unique place to relax, and its architecture is largely inspired by modern interior design. Elements such as the extended dashboard, the raised BMW Curved Display™ on the dashboard and the slimline seats act as ergonomic high-end furnishings, thanks also to their choice of colors and materials.
The free-standing floating center console and the largest translucent panoramic roof ever installed in a BMW convey an intoxicating sense of space, inviting you to linger in this plush interior.
For audiophiles, there's an 18-speaker Kardon Surround Sound system, or an optional 30-speaker Bower & Wilkins Diamond Surround Sound system with in-seat bass.


BMW iX Prices and Trim Levels
The BMW dealership shows that its 2024 iX is available in three trim levels, each more relevant than the last:
| | |
| --- | --- |
| Trim Level | BMW ix Starting Price |
| | $84, 802 |
| | $100, 962 |
| | $138, 162 |

If this is a popular SUV, BMW Canada also highlights it as an electric BMW SUV of the future.
It also offers a good cargo volume, ranging from 1,005 L to 2,205 L (seats down). This means you can fit all your luggage and golf bags.
---
Come and see the all-new German electric SUV at your BMW dealership, BMW Ste-Agathe, in Sainte-Agathe-des-Monts in the heart of the Laurentians, near Saint-Sauveur, Saint-Jovite and Mont-Tremblant. We look forward to seeing you!