Electrification is coming along well at the German manufacturer BMW, which is diversifying its range of electric vehicles with high-performance sedans and SUVs. This year, it's the turn of the prestigious 7 Series sedan to go all electric!
Below, we provide you with more information on the new BMW i7 electric, its performance, its exterior and interior styling as well as its advanced technologies.
---
BMW i7 Electric: 536 Electric Horses!
With its electric BMWs, the German manufacturer intends to show that it makes no compromise on performance. The i7 sedan is powered by two motors, which means that all-wheel drive is standard.
These engines are powered by a 107-kWh battery, and the total power is increased to 536 horsepower! As for acceleration, it is estimated that the large sedan will develop from 0 to 100 km/h in 5 seconds.
Moreover, you will benefit from an advantageous electric reach, being able to go up to 512 km on a single charge. Of course, it will be possible to fill up on electricity with three levels of charge. Charging times have not yet been revealed, but we know that the level 3 plug can charge the i4 sedan in 34 minutes and the BMW iX SUV in only 39 minutes.
As for driving, an adaptive suspension and Executive Drive Pro are among the features. So, you can expect a well-controlled and comfortable ride, even on the bumpy and rough roads of Québec. In addition, the driving modes are boosted by exclusive sounds composed by Hans Zimmer for a unique experience.
A plug-in hybrid Canada version of BMW is also planned for 2023 for the 7 Series car. As for the 2023 BMW i7, it is expected for the fall of 2022!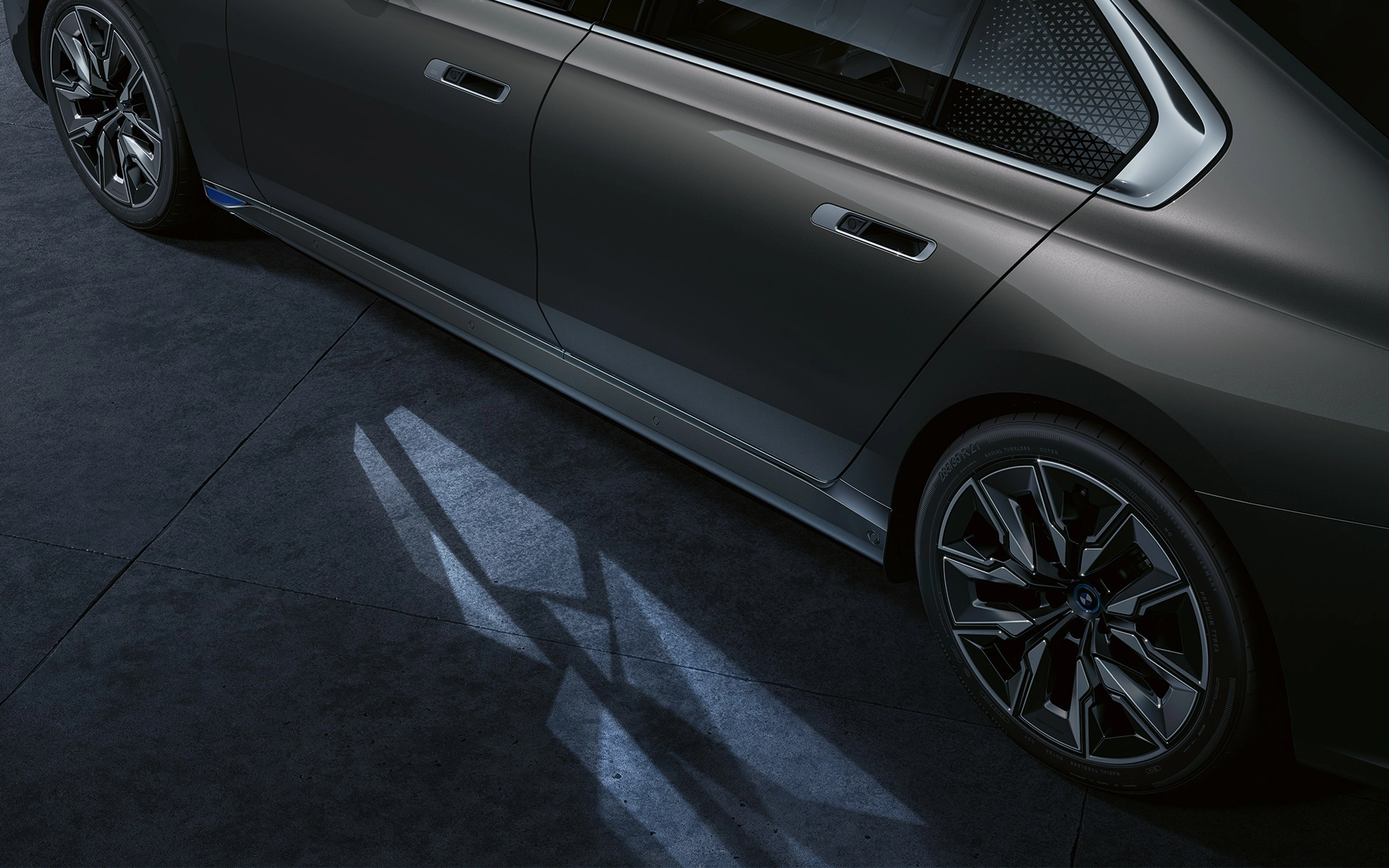 BMW i7: A Slim Design
For this new model, BMW offers soft and slender shapes, especially with its new LED headlights. Not only are they slimmed down, but they also integrate Swarovski crystals!
As for the front grille, it is framed by a delicate strip of light, named "BMW Iconic Glow", symbolizing this new electrified era.
Another distinctive feature of the electric model is the integration of blue styling elements, which can be seen on the sides and rear of the vehicle, where normally the exhaust is placed. Finally, other features include:
Welcome lighting
Floor lighting
Automatic door opening and unlocking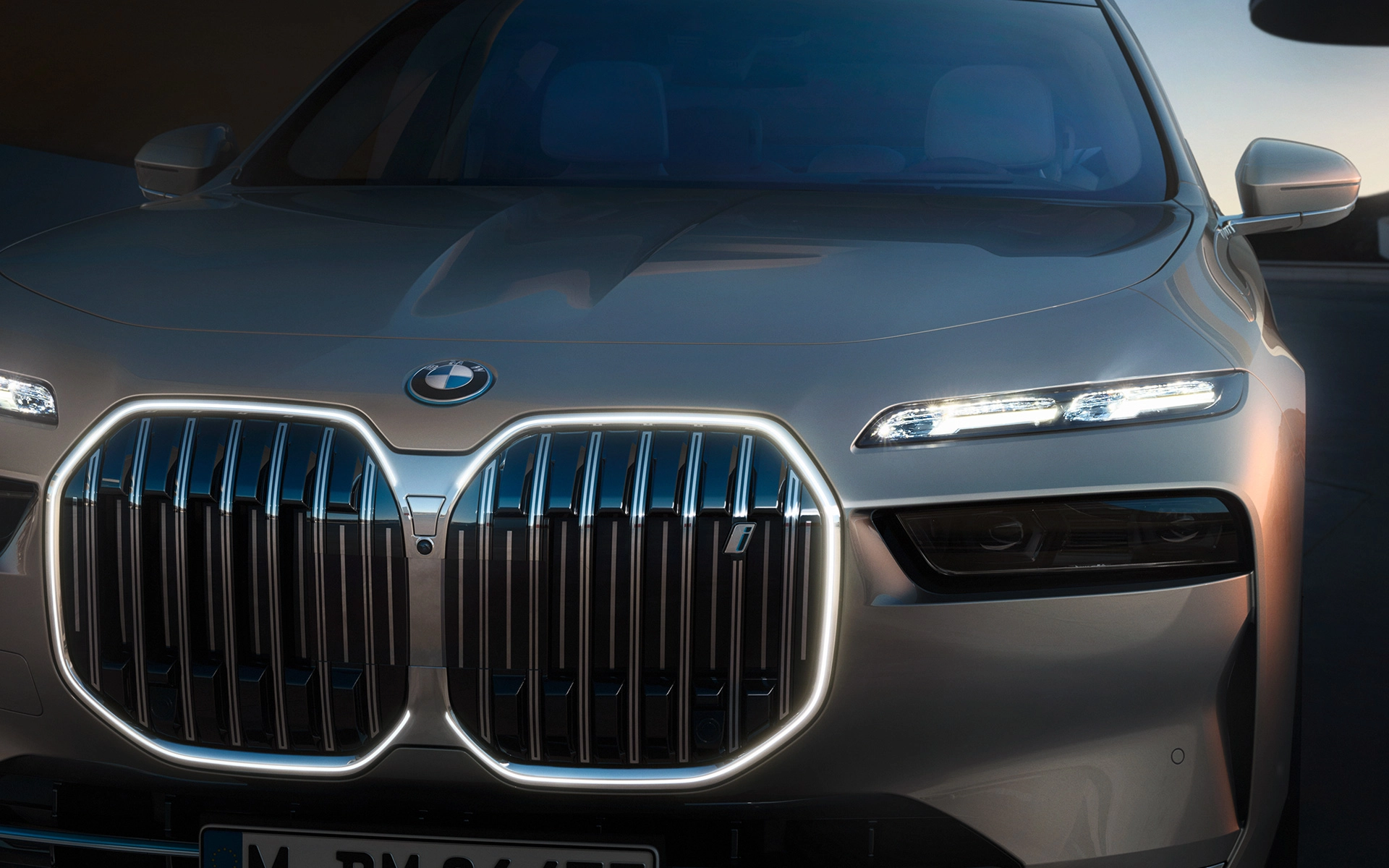 Cutting-Edge Technologies
These advanced features lead us to talk about the technologies found inside the cabin, which are particularly avant-garde. In the center of the dashboard, a curved screen connects the 12.3-inch digital instrumentation and the 14.9-inch infotainment screen!
That's not all: as an option, your passengers can enjoy a 31.1-inch screen to watch Amazon Video and Netflix content, among others! This home theater is enhanced with touch-screen display controls integrated in the rear passenger doors.
Sound quality is also at the forefront. In addition to the sounds composed by Hans Zimmer, your music comes to you through a Bowers & Wilkins 4D audio system with 35 speakers!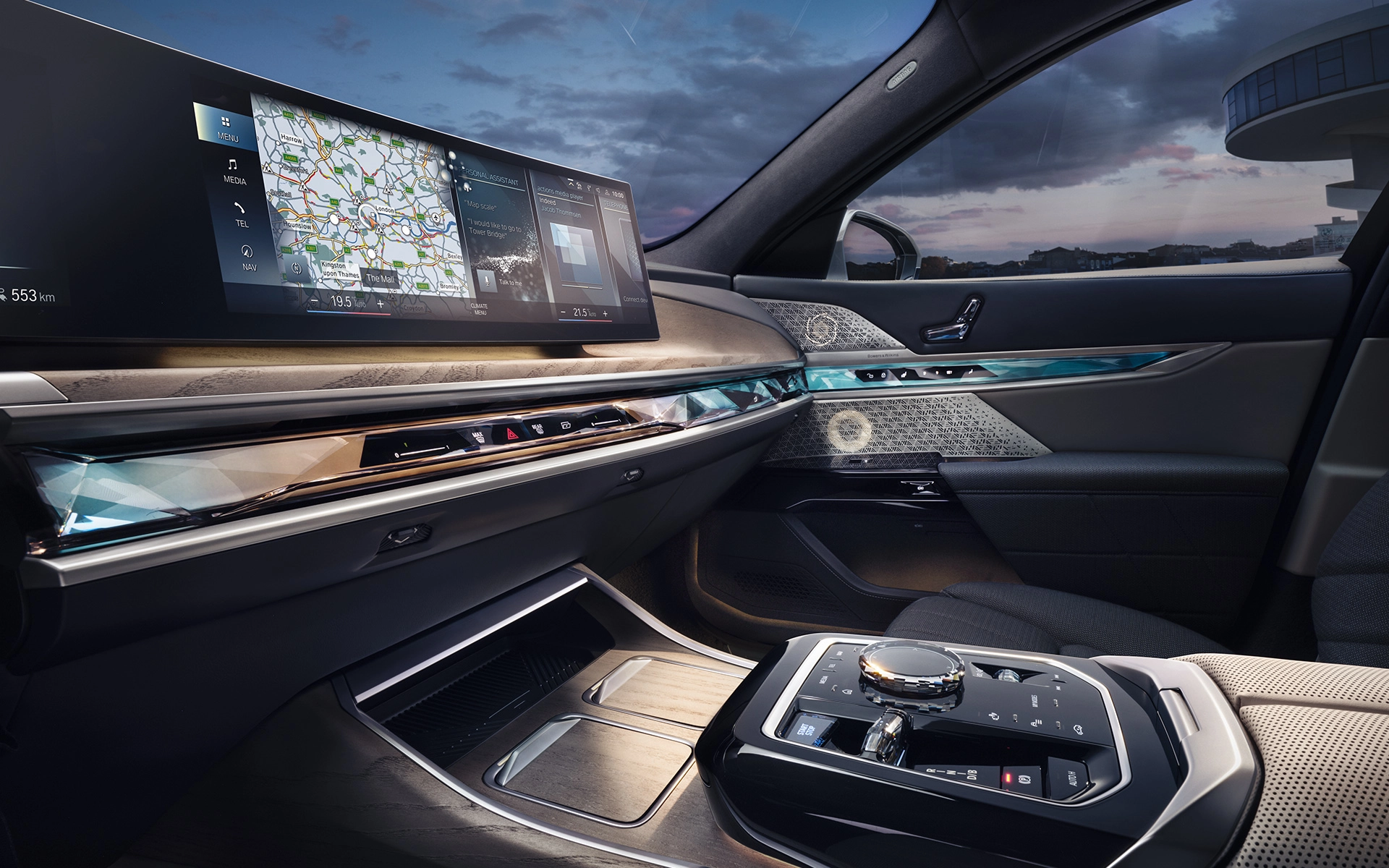 BMW i7 Interior: A Lounge Atmosphere
In the BMW i7 interior, the manufacturer wanted to create a lounge-like atmosphere for a refined and comfortable interior. The cabin is topped with a panoramic glass roof called "Sky Lounge", which also creates a light atmosphere at night with dynamic effects.
Comfort is also emphasized with features such as:
Heated and ventilated seats
A massage function
Adjustable leg rests in the second row
And much more!
As you might have guessed, the rear passengers are not left out. According to Gabriel Gélinas, automotive journalist for The Car Guide:
"Rear passenger space is one of the highlights of these models where legroom is superior to the electrically powered Mercedes-Benz EQS."
As for the 2023 BMW i7's price, it's not much higher than a base 7 Series model with an MSRP of $147,000. In brief, here are the known features:
| | |
| --- | --- |
| Features | BMW i7 |
| MSRP Price | $147,000 |
| Engine | 2 electric engines |
| Battery | 107 kWh |
| Power | 536 horsepower |
| Range | 512 km |
Looking for the BMW for sale that best suits you? BMW hybrid and electric cars are waiting for you at your dealership in Ste-Agathe. Come and meet our passionate team at our BMW dealer in the heart of the Laurentians, near Saint-Sauveur, Saint-Jovite and Mont-Tremblant!