BMW is not sitting on the sidelines of the growing electrification trend. It's unveiling its colourful and distinctive 100% electric BMW iX, which stands out from the crowd.
We introduce you to this mid-size luxury SUV and its innovative features and intuitive technologies.
AN IMPRESSIVE SUV!
It is 4,953 mm long, 1,967 mm wide and 1,696 mm high. You have to see it to understand just how much it turns heads!
Obviously, there is a lot of technology behind this body. The radars and other sensors needed for semi-automatic driving are discreetly integrated behind a futuristic grille. The latter heats up if needed to keep the equipment active in case of ice or snow, making it great for our colder seasons!
A POWERFUL CAR!
First of all, the powerful BMW iX SUV has two electric motors that produce 516 horsepower (400 kW) and 564 lb-ft of torque. As stated in Le Guide De L'auto 2022:
"The iX xDrive50 claims a 0-100 km/h time of 4.6 seconds."
A potent car that will take you on a journey.
Battery life? More than 475 km, enough to take you on long trips. The new BMW is powered by a lithium-ion battery with a capacity of 111.5 kWh. Recharging time varies depending on the charging station used. A conventional terminal will do the job in 11 hours, while a fast terminal (400 V) will recharge your battery in 35 minutes (from 10 to 80%).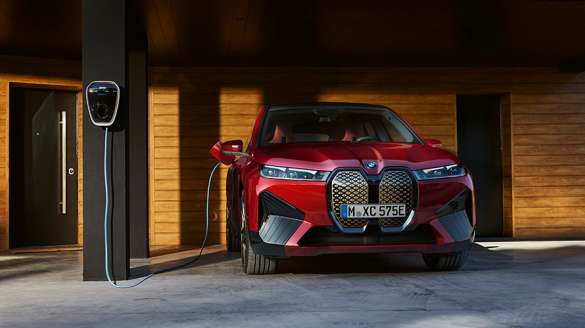 A BREATHTAKING INTERIOR!
Inside, you feel as though you're in another world. The cabin is rather minimalist, but spacious and full of intelligent details. Obviously, everything is centred around the very large curved screen that serves as the instrument panel and a hexagonal steering wheel.
Most of the upholstery is made of noble and recycled materials. When adjusting the seat, one's fingers rest on buttons of a rare beauty, which gives even more depth to the Germanic refinement.
The same can be said for the infotainment knob. It fits perfectly into the wooden centre console. Navigating the menus is rather intuitive, user-friendly and intelligent. Full connectivity, with 5G network allows for equipment updates, such as applications on your smart phone.
In short, the interior is spacious, storage spaces are generous and rear passengers will enjoy good legroom. Comfort and refinement really define this all-electric vehicle.
CUTTING-EDGE TECHNOLOGIES
First of all, it should be noted that:
"The technology definitely meets the expectations."
As stated in Le Guide De L'auto 2022
Generally speaking, the vehicle acts according to traffic conditions. For example, the German luxury SUV anticipates slowing down on the road in an intelligent way with optimal engine braking management. Note that the 2022 iX does it perfectly, without disgrace.
The BMW iX can also park easily thanks to its advanced camera and radars. The Munich-based carmaker goes even further, remembering the tricky maneuver to get into your garage, and then repeats it without your intervention the following times.
As you approach your vehicle, you'll be greeted, as the L'Annuel De L'automobile 2022 mentions:
"With a step-by-step lighting effect using the exterior lighting,
and the vehicle will unlock just before you reach the door."
In short, there's a lot of intuitive technology in this SUV. The BMW iX price in Canada starts at $79,990 on BMW Canada Website.
Let's summarize the prowess of this all-electric SUV:
Features

2022 BMW iX

Motorization

All electric. Two electric motors

Power / Torque

516 horsepower / 564 lb-ft

Autonomy / Recharging

475 km / 35 minutes on fast charge (400 V)

Lithium-ion battery

Versions

iX xDrive50 and iX M60

Trunk

500 L and 1750 L (lowered seats)

Towing Capacity

2,500 kg (trailer with brakes)
Finally, in the heart of the Laurentians, near Saint-Sauveur, Saint-Jovite and Mont-Tremblant, BMW Ste-Agathe awaits you with its brand new all-electric 2022 BMW iX. Come and meet us now!